Machine vision technology supplier Teledyne DALSA has announced the Xtium2 family of frame grabbers for the PCIe Gen3 platform.Xtium2 includes two new models of frame grabber boards featuring AIA's Camera Link HS interface: the Xtium2-CLHS PX8 and Xtium2-CLHS FX8.The series will also provide support to upcoming and existing interfaces such as CoaXPress (ver 2.0) and Camera Link.
Xtium2-CLHS PX8 features
Seven lanes operating at 10 Gbit/s using CLHS X-Protocol
Deliver host transfer bandwidth in excess of 6.8 GByte/s.
Supports a CX4 connector that is Active Optical Cables (AOC) ready.
The AOC use fibre cable to deliver cable lengths greater than 15 metres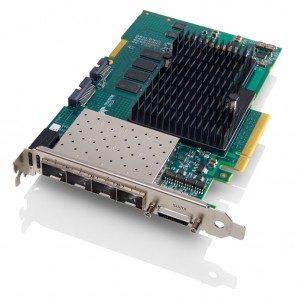 Xtium2-CLHS FX8 Features
Supports up to four bidirectional SPF+ modules to deliver up to four GByte/s of image acquisition
Host transfer speeds of up to 6.8 GByte/s.
The SPF+ module and fibre optic cables help extend cable lengths to 100 metres.
In addition, the Xtium2-CLHS FX8 is capable of supporting multiple independent CLHS cameras.