MULTISPECTRAL EXOLIGHT V2.0
Machine Vision & Automation
Packaging inspection such as absence & presence of product
Workbench illumination
Automotive component inspection
Coiled steel pin-hole detection
Pick & place
Sorting facilities /Bar code reading
Robotic Inspection
Lumiform diffuser with 120° (+/-5%) uniform lighting
Built-in constant current driver(s) provides consistent illumination output
Continuous and Strobe with power boosting versions available
0-10V & potentiometer intensity control versions available
More stable than and outperforms fluorescent tubes by 3x
24VDC version requires no special controllers
Features a clamping style tilt bracket to allow easy positioning from 0-180º
CE, RoHS compliant
Compact robust packaging, no glass
Wavelength available: UV, Visible, IR, RGB, RGBIR, Multi-Spectral
The ISO2 (Exolight2) builds upon the world-renowned, groundbreaking technology of the original Exolight Series (ISO). The ISO2 has a high-impact durable moulded diffuser that results in an appearance similar to a fluorescent tube but has all the advantages of an LED front and backlight.
With its 120° spread of uniform illumination, the ISO2 is an ideal candidate for the most sensitive area scan applications, as a front light, backlight, and some line scan applications. Consult us for IP rated versions as well as options that include polarizer, quick disconnect and more.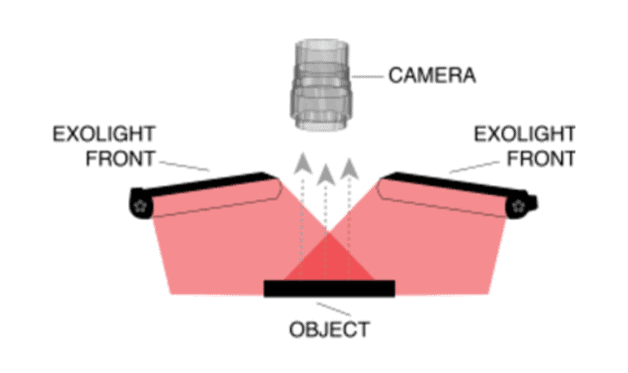 We Offer our lights with many different driver configurations to make the lights compatible with the latest LED controllers and Vision Cameras. This provides greater flexibility, control, and convenience when integrating Metaphase illumination systems. Some drivers may not be compatible with all sizes due to current requirements etc.
• 24v – Our most popular configuration for use with a standard 24v constant voltage power supply
• ULC-2 – Compatible – For use with constant current controllers such as our ULC-2 Universal Controller
• ILS – Configured for Strobing applications with Power Boost for increased Intensity for Rising and Falling Edge Triggers
• Keyence – Compatibility with Keyence Light controllers such as the Keyence CA-DC21E
• Baumer – Compatibility with Baumer VeriSens Cameras
• Cognex – Compatibility with Cognex Cameras
SPECIFICATIONS:
Power Source: 24VDC +/-5%
Cable (Standard): 10-foot cable with flying leads
Housing: Black Anodized Aluminum
Ambient Temp: -20°C to 40°C
Lifetime Expectancy: 75,000 hours (except UV)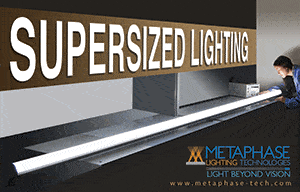 IP (Ingress Protection) Rated
Please contact Metaphase or your local representative for information regarding IP rated versions of this light for harsh environments (water, dust, etc).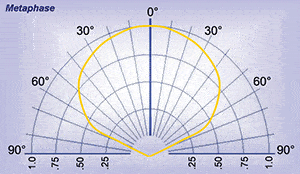 Common Wavelength Combination (but not limited to):
RGB
RGB + IR (850)
White + IR (850)
White + UV
SWIR + White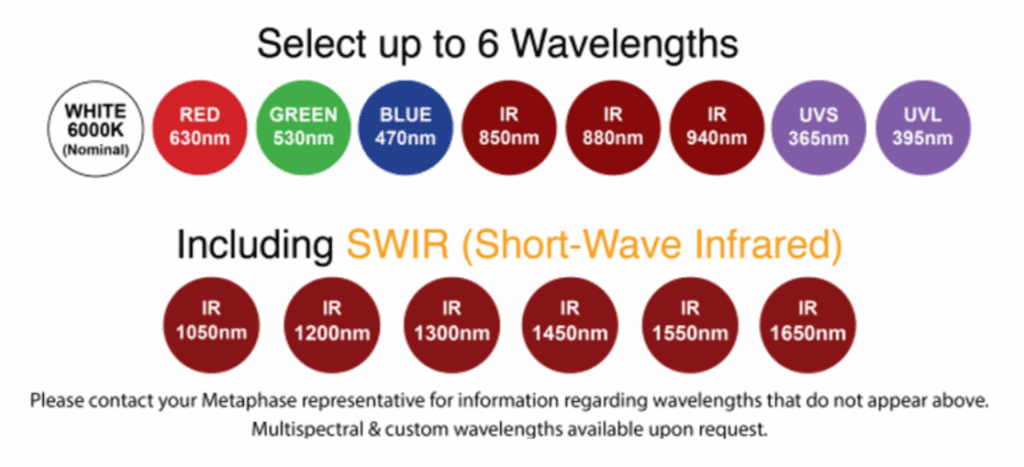 Machine Vision & Automation
Fill levels of transparent and nontransparent/opaque containers
Medical product inspection such as a vial and intravenous bags (IV)
Prevent shipments of dried out product such as packaged food
Water management and monitoring: Monitor plant moisture to prevent under and over watering
Inspection of embedded electronics and circuits
Chemical Analysis
Absence and Presence of oil 7 lubricants: Failed gasket detection such as Automotive and on machining oil
Thickness and void detection on clear coats and films
Anti-counterfeiting inspection
Surveillance, Security, Broader control
Wafer and Solar cell inspection
Liquid Identification
Glass Inspection
Fruit Bruising
Machine Vision & Automation
Robotic Inspection
​Short-Wave Infrared (SWIR), typically defined as wavelengths in the range of 900nm to 2,500nm, is now offered in the Metaphase Backlight. SWIR technology provides the necessary contrast to illuminate test objects that are visible and ultraviolet light cannot provide. The SWIR Backlight is a high performance and uniform light source for silhouetting and transmissive applications. Using a full array LED layout, we can pack more LEDs per square inch to provide greater intensity, uniformity and performance.
Lumiform diffuser with 120° (+/-5%)
• Full-array, high-power surface mount LED layout
• Exclusive optical lens provides high uniformity, shadow-free backlight illumination
• Thermal management design draws heat directly from the die ensuring long life
• Available in a limited amount of standard sizes but can be custom designed per order
• Optional Constant Current Driver with 0 – 10VDC intensity control, compatible with DDC-3 and ILD-35-24-L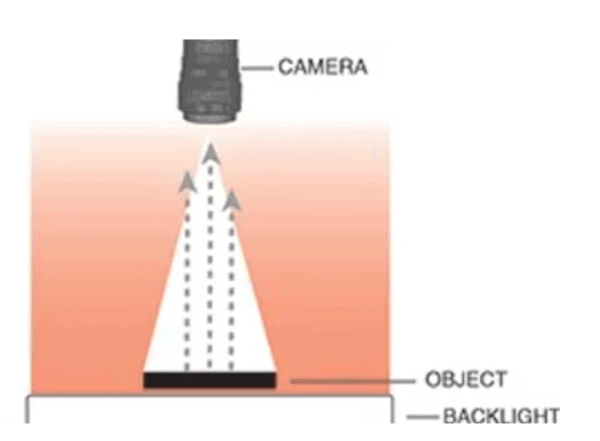 SPECIFICATIONS:
Power Source: 24VDC +/-5%
Cable (Standard): 10-foot cable with flying leads
Housing: Black Anodized Aluminum
Ambient Temp: -20°C to 40°C
LED Layout: Full Array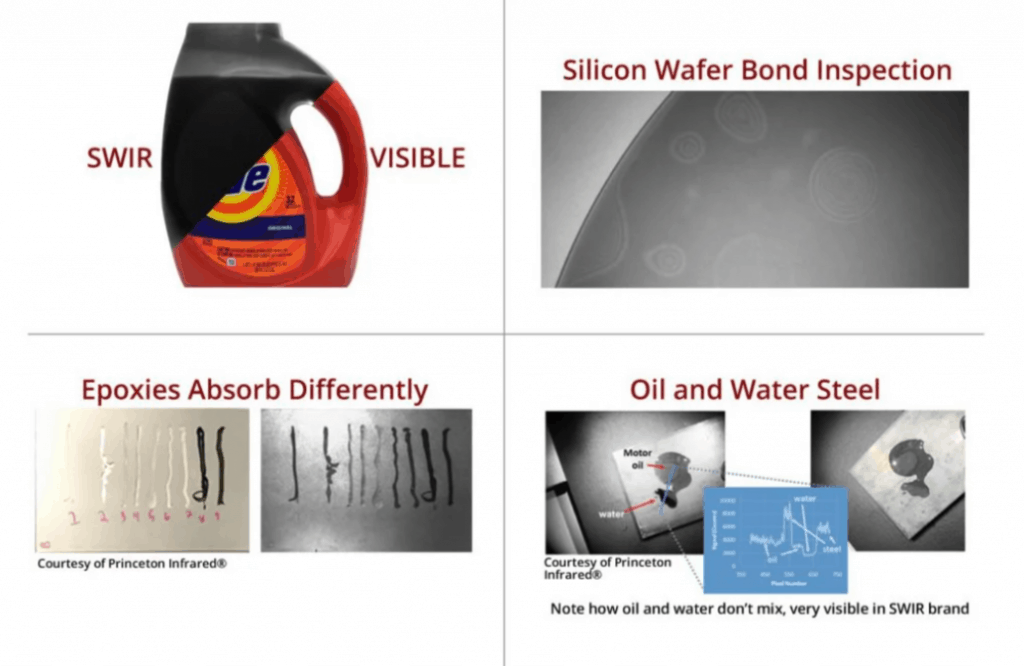 HYPERSPECTRAL ILLUMINATION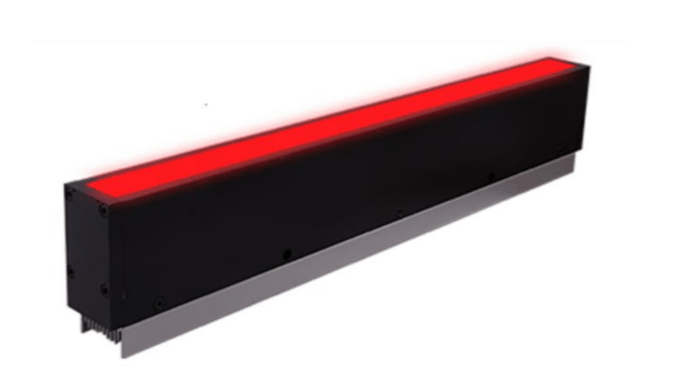 Hyperspectral LED Illumination System
Metaphase has another machine vision first, Hyperspectral broad band LED illumination! Finally break away from the typical hyperspectral Halogen light source with its high temperature and high-power consumption.
Metaphase Hyperspectral 400nm-NIR and Broadband SWIR illumination (1000-1700nm) provides the ideal match to your favorite Hyperspectral camera. Don't need the full spectrum? Metaphase can tailor the light sources to match the camera's spectral response and specific application requirements.
Hyperspectral Camera Examples:
Specim
Resonon
Photonfocus
Ximea
Color Chemical Analysis
Sorting
Food
Pharmaceutical
Machine Vision & Automation
Robotic Inspection
HYPERSPECTRAL ILLUMINATION
*Provisional
Chart Updated on 12/15/2017
Camera Examples
SnapShot Line Scan HSI Spectral Curves
*Provisional
Camera Examples
SnapShot Mosaic/Tile Area Scan HSI Spectral Curves
*Provisional
Camera Examples