ELEDYNE LUMENERA LT SERIES USB3 BOARD LEVEL CAMERAS
Teledyne Lumenera's Lt Series Board Level Cameras offer a smaller, lighter, and lower cost imaging solution. Equipped with the latest rolling shutter Starvis™ CMOS sensors and global shutter Pregius™ CMOS sensors from Sony®. They range in resolution from 2 – 12 megapixels providing the flexibility to meet the requirements of a wide variety of imaging systems. These Board Level Cameras are designed specifically to meet the challenges of today's embedded systems with design considerations such as, connectors on the side of each camera so applications can take advantage of shorter cable lengths, and a flat-back design that minimizes the space required for vision systems.
Global shutter and rolling shutter CMOS sensors available
High sensitivity with both front and back illuminated sensors (BSI)
Side mounted USB connectors for ease of use in OEM solutions
High sensitivity with pixel sizes from 2 µm to 3.45 µm
High dynamic range, high speed, low read noise
Clarity provides smear-free images even when strong light sources are present
USB3 Vision compliant
Windows operating system and Linux SDKs (for embedded vision systems)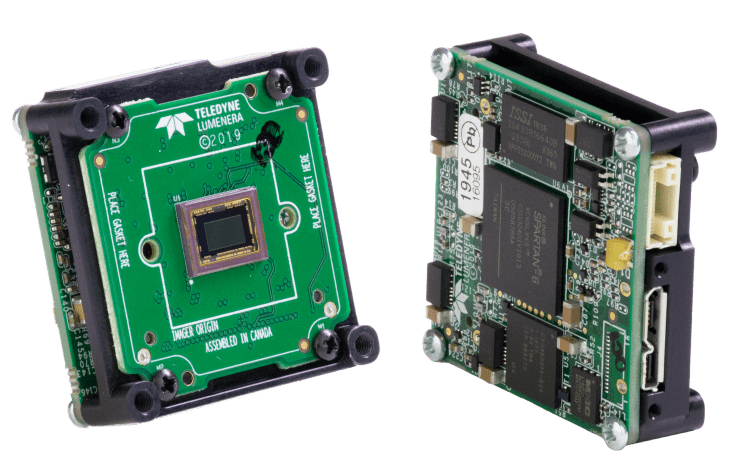 | Product | Resolution | Frame Rate | Sensor |
| --- | --- | --- | --- |
| Lt-C1610B / Lt-M1610B | 1.7 MP | 96 fps | IMX432 color/mono |
| Lt-C1630B / Lt-M1630B | 2.0 MP | 86 fps | IMX430 color/mono |
| Lt-C1900B | 2.1 MP | 60 fps | IMX327 color |
| Lt-C1950B / Lt-M1950B | 2.3 MP | 162 fps | IMX392 color/mono |
| Lt-C2020B / Lt-M2020B | 3.2 MP | 55 fps | IMX265 color/mono |
| Lt-C2420B / Lt-M2420B | 5.1 MP | 35 fps | IMX264 color/mono |
| Lt-C3200B / Lt-M3200B | 7.1 MP | 50 fps | IMX428 color/mono |
| Lt-C3840B / Lt-M3840B | 8.3 MP | 44 fps | IMX334 color/mono |
| Lt-C4030B / Lt-M4030B | 8.9 MP | 31 fps | IMX267 color/mono |
| Lt-C4020B / Lt-M4020B | 12 MP | 22 fps | IMX304 color/mono |
These board level cameras are perfectly suited to accommodate OEM customers looking to integrate cameras into their products. All of these cameras come with Teledyne Lumenera's 3-year warranty.
WHY SELECT A BOARD LEVEL CAMERA?
Easy Camera Integration
The compact design of the new Lt Series Board Level Cameras allows for easy integration into imaging systems with small form factors. This means the new Board Level Cameras are ideal for integrating into portable or handheld imaging devices, and compact OEM imaging system designs with a minimal footprint.
Since Board level cameras do not have pre-installed lens mounts, system designers and optical engineers have the flexibility to select a C-mount, CS-mount, M-12 (S-mount), or another lens type to meet the specific needs of the imaging application.
The Teledyne Lumenera Lt Series Board Level Cameras provide ease in the vision system design process by eliminating the extra camera weight and material that normally complicates things for engineers. Without housings, these cameras make it easier for system designers to integrate these cameras into existing product designs.
Compact Imaging System Designs in Mind
With this next evolution for Teledyne Lumenera, the Board Level Cameras have ports located on the side of the camera for easy access. Instead of connecting to the back of the camera which would generally mean a longer amount of space required within a design, having connectors on the side allows for the back of these cameras to lie flush against the other components of the device. These side connectors can be also placed on the top or bottom of the camera so if an application requires using multiple cameras side by side there will not be interference from the cable position. Vision systems such as Unmanned Aerial Vehicles (UAVs) can reduce their size and thus reduce their weight to increase flight time using Lt Series Board Level Cameras.
Clear Images in Dynamic Lighting
When lighting conditions are not consistent, the clarity and color produced by Teledyne Lumenera Board Level Cameras can make the difference. These Board Level Cameras offer high dynamic range with Sony's Starvis and Pregius CMOS sensors. This added clarity in the dark and light parts of an image allows for a greater amount of image data to be collected.
Increased Flexibility with Even More Functionality
The Teledyne Lumenera Lt Series Board Level Cameras offer the full set of features that have come to be expected in the imagining industry. Instead of compromising on a camera because of its size, the new Board Level Cameras come in the most compact design Teledyne Lumenera has offered to this day
WHY SELECT A BOARD LEVEL CAMERA?
Aerial Imaging
The fundamental concerns for imaging systems for aerial imaging is size, weight, and power restrictions (also known as SWaP). These limit the choice of cameras for vision system applications such as precision agriculture, aerial surveillance, photogrammetry, and aerial inspection. Teledyne Lumenera's board level cameras offer better imaging performance with a short, light form factor, and with the power of USB, they are ideal for UAVs.
Portable / Handheld Imaging Devices
Vision systems that require transportation need size and weight to be a top priority. With mobile use in mind, the freedom that the Board Level Cameras provide comes from their size. This works great with handheld devices that require high performance imaging with minimal clearance for additional hardware. That minimal and light weight hardware allows a device to be used in a variety of environments and increases the range of applications that a vision system can satisfy.
Outdoor Imaging
Imaging outdoors can cause issues for retaining details in the highlights and shadows. The inconsistent lighting conditions resulting from the sun means that some images may have under or over exposed areas. The key to ensuring images keep clarity in such conditions is having a high dynamic range camera. The Lt Series Board Level Cameras have high dynamic range without losing the detail required for outdoor applications like toll management, speed and red light enforcement, HOT lane enforcement, and parking validation access control.
Life Science Imaging
Teledyne Lumenera designed the Board Level Cameras with feedback from the medical industry. One of the biggest challenges with implementing an imaging component to a medical device is that there are often limiting size requirements. Many medical companies need to choose the dimensions of their product in the planning phase which eliminates any camera that does not fit that criteria. Teledyne Lumenera's Board Level Cameras allow embedded systems to take advantage of their form factor and choose optics that meet the physical limitations of the product.