HALCON – THE POWER OF MACHINE VISION
MVTec HALCON is the comprehensive standard software for machine vision with an integrated development environment (HDevelop) that is used worldwide. It enables cost savings and improved time to market. HALCON's flexible architecture facilitates rapid development of any kind of machine vision application.
MVTec HALCON provides outstanding performance and a comprehensive support of multi-core platforms, special instruction sets like AVX2 and NEON, as well as GPU acceleration. It serves all industries, with a library used in hundreds of thousands of installations in all areas of imaging like blob analysis, morphology, matching, measuring, and identification. The software provides the latest state-of-the-art machine vision technologies, such as comprehensive 3D vision and deep learning algorithms.
The software secures your investment by supporting a wide range of operating systems and providing interfaces to hundreds of industrial cameras and frame grabbers, in particular by supporting standards like GenICam, GigE Vision, and USB3 Vision. By default, MVTec HALCON runs on Arm®-based embedded vision platforms. It can also be ported to various target platforms. Thus, the software is ideally suited for the use within embedded and customized systems.
DEEP LEARNING INSTANCE SEGMENTATION
With HALCON 21.11 MVTec extends the functional scope of its deep learning features with a new technology called "instance segmentation". This combines the advantages of semantic segmentation and object detection. With the help of instance segmentation, objects can be assigned to different classes with pixel accuracy. This technology is particularly useful in applications where objects are very close to each other, touch or overlap. Typical use cases also include grabbing randomly arranged objects from boxes (bin picking) as well as identifying and measuring naturally grown structures.
HALCON 21.11: Highly accurate identification and measurement of bacteria in petri dish
IMPROVED BAR CODE READER FOR CODE 128
With HALCON 21.11, HALCON's bar code reader is improved in terms of robustness in case of blurred Code 128/GS1-128 codes. Now, codes with a larger amount of blur can be read. Blur on such codes can occur due to motion or due to limitations in depth of focus. The Code 128/GS1-128 is a widely used bar code type that is frequently used in logistics due to its compact size and high data density.
HALCON 21.11 reading a blurred Code 128 bar code
IMPROVED DICTIONARY HANDLING
Dictionaries make it easy and convenient to manage complex data in HALCON. For example, different data types such as images, ROIs and parameter settings can be bundled in a single dictionary. This allows programs to be structured in a logical way, for example when passing many parameters to a procedure.
HALCON 21.11 includes several improvements that make the handling of dictionaries even easier and faster. For example, dictionaries can now be initialized with a single operator call, and the syntax for adding and retrieving elements has been simplified. In addition, the auto-completion now also suggests the keys contained in the dictionary, which further speeds up and simplifies working with dictionaries.
HALCON 21.11 Improved Dictionary Handling
FUTURE-PROOF INTERFACE FOR SHAPE MATCHING
With Generic Shape Matching, HALCON offers user-friendly access to MVTec's industry-proven shape matching technologies. Thanks to the significant reduction in the number of required operators, users can implement solutions more easily and quickly.
With HALCON 21.11, existing functionalities are enhanced based on customer feedback to further increase usability. For example, the clutter feature has been integrated, handle inspection has been optimized, and additional parameters have been integrated and included in the automatic parameter estimation.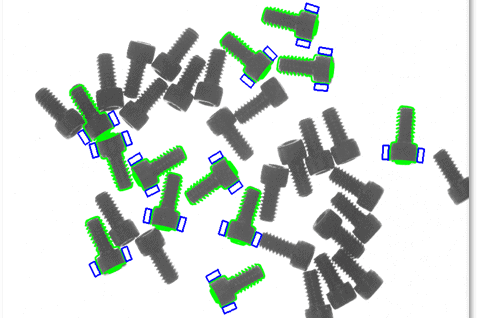 HALCON 21.11 Future-Proof Interface for Shape Matching
Features included in this version:
Deep OCR improvements
Generic Shape Matching
HDevelop usability improvements
HALCON Deep Learning Framework
Subpixel bar code reader improvements