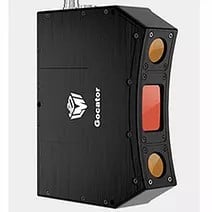 SNAPSHOT SENSORS (G3 FAMILY)
For Vision-Guidance, Robotic Inspection, and Pick-and-Place
Gocator snapshot sensors combine blue-LED structured light with built-in 3D measurement tools for specific object features. As opposed to lasers that are used to scan moving objects, snapshot sensors use a single snapshot scan to inspect targets with stop/stop motion.
For Inline 3D Inspection of Large Parts
Fast scan rate (4 Hz full-field)
2-megapixel stereo camera minimizes occlusions
Wide field of view (FOV) up to 154 mm
Pick-and-place friendly for robotic/stationary inspection applications
Metrology-Grade 35 µm Snapshot Sensor
Use Gocator 3210's blue-LED structured light technology and wide field of view for full field inspection of large targets (e.g., automotive components and assemblies).
Fast scan rate (4 Hz full-field)
2-megapixel stereo camera minimizes occlusions
Wide field of view (FOV) up to 154 mm
Pick-and-place friendly for robotic/stationary inspection applications
For Inline 3D Inspection of Small Parts
Fast scan rate (3 Hz full-field)
5-megapixel stereo camera minimizes occlusions
High repeatability (2 μm) for reliable measurements at production speed
Pick-and-place friendly for robotic/stationary inspection application