Smaller, faster, stronger, cheaper.
Better in every way that matters.
Introducing Genie Nano, a CMOS GigE camera that redefines low cost performance. Genie Nano starts with industry leading CMOS sensors and adds proprietary camera technology for breakthrough speed, a robust build quality for wide operating temperature, a three-year warranty and an unmatched feature set—all at an incredible price.
Latest generation CMOS technology.
Genie Nano is designed to use a range of leading CMOS image sensors, including models from Sony's Pregius and ON Semiconductor's Python lines. With resolutions from VGA to 25 megapixels, the Nano delivers high speed, low noise, and global shutters.
Exploit more speed with your existing infrastructure
With the latest high performance CMOS image sensors, Genie Nano CL lets you take advantage of higher frame rates, higher resolution, and higher performance without having to change the rest of your existing Camera Link system infrastructure. You can keep your existing frame grabbers, cables, and application code, leveraging your existing investment to new levels of performance.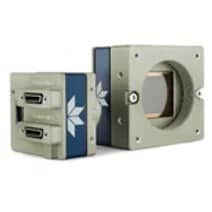 | Product | Resolution | Spectrum | Interface | Pixel Size | Max Line Rate | Category |
| --- | --- | --- | --- | --- | --- | --- |
| Genie Nano-CL C2420 | 2448 x 2048 | Color | Camera Link | 3.45 µm | 35 fps | Genie Nano CL |
| Genie Nano-CL C2450 | 2464 x 2056 | Color | Camera Link | 3.45 µm | 141 fps | Genie Nano CL |
| Genie Nano-CL C4020 | 4112 x 3008 | Color | Camera Link | 3.45 µm | 20 fps | Genie Nano CL |
| Genie Nano-CL C4040 | 4112 x 3008 | Color | Camera Link | 3.45 µm | 64 fps | Genie Nano CL |
| Genie Nano-CL C4060 | 4112 x 2176 | Color | Camera Link | 3.45 µm | 88 fps | Genie Nano CL |
| Genie Nano-CL C4090 | 4096 x 4096 | Color | Camera Link | 4.5 µm | 45 fps | Genie Nano CL |
| Genie Nano-CL C4160 | 4128 x 4128 | Color | Camera Link | 2.8 µm | 40 fps | Genie Nano CL |
| Genie Nano-CL C5100 | 5112 x 5112 | Color | Camera Link | 4.5 µm | 32 fps | Genie Nano CL |
| Genie Nano-CL M2420 | 2448 x 2048 | Mono | Camera Link | 3.45 µm | 35 fps | Genie Nano CL |
| Genie Nano-CL M2450 | 2464 x 2056 | Mono | Camera Link | 3.45 µm | 141 fps | Genie Nano CL |
| Genie Nano-CL M4020 | 4112 x 3008 | Mono | Camera Link | 3.45 µm | 20 fps | Genie Nano CL |
| Genie Nano-CL M4040 | 4112 x 3008 | Mono | Camera Link | 3.45 µm | 64 fps | Genie Nano CL |
| Genie Nano-CL M4060 | 4112 x 2176 | Mono | Camera Link | 3.45 µm | 88 fps | Genie Nano CL |
| Genie Nano-CL M4090 | 4096 x 4096 | Mono | Camera Link | 4.5 µm | 45 fps | Genie Nano CL |
| Genie Nano-CL M4090 NIR | 4096 x 4096 | Mono, NIR | Camera Link | 4.5 µm | 45 fps | Genie Nano CL |
| Genie Nano-CL M4160 | 4128 x 4128 | Mono | Camera Link | 2.8 µm | 40 fps | Genie Nano CL |
| Genie Nano-CL M5100 | 5112 x 5112 | Mono | Camera Link | 4.5 µm | 32 fps | Genie Nano CL |
| Genie Nano-CL M5100 NIR | 5112 x 5112 | Mono, NIR | Camera Link | 4.5 µm | 32 fps | Genie Nano CL |