The new standard for speed
Engineered for imaging applications that require high-speed data transfer, the all new Genie Nano 5GigE is an easy replacement for gigabit ethernet cameras built into current vision systems that rely on the existing GigE Vision interface standard. The new Genie Nano 5GigE models feature the brand new 5Gbps (5GBASE-T) link speed.
When combined with Turbodrive, you get the same throughput as 10GigE but lower cost of ownership.
Like all Genie Nano cameras, the new Genie Nano 5GigE models are offered in a compact form and available in multiple resolutions ranging from 3.2MP to 45MP, with fast frame rates to fill the entire 5GigE bandwith (and more, with Turbodrive). System designers for industrial automation, electronics manufacturing, packaging, semiconductor inspection, and general machine vision inspection can expect a smooth integration path to extend the life of an existing system with little difficulty.
Break through the GigE limit.
Teledyne DALSA's proprietary TurboDrive™ technology allows Genie Nano to deliver its full image quality at faster frame rates—often 150% or higher—with no changes to your GigE network. Get the fastest gigabit ethernet camera on the market.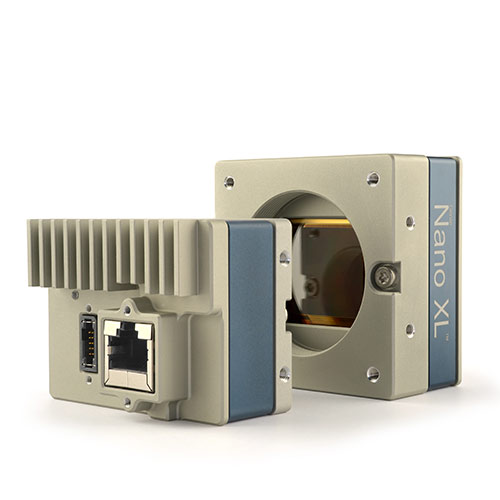 | Product | Resolution | Spectrum | Interface | Pixel Size | Max Line Rate |
| --- | --- | --- | --- | --- | --- |
| Genie Nano M1930 Mono | 1984 x 1264 | Mono | GigE Vision | 4.8 µm | Standard: 48 fps |
| Genie Nano M1920 Mono | 1936 x 1216 | Mono | GigE Vision | 5.86 µm | Standard: 38.8 fps |
| Genie Nano M1450 Mono | 1456 x 1088 | Mono | GigE Vision | 3.45 µm | Standard: 76 fps |
| Genie Nano M1280 NIR | 1280 x 1024 | Mono, NIR | GigE Vision | 4.8 µm | Standard: 92 fps |
| Genie Nano M1280 Mono | 1280 x 1024 | Mono | GigE Vision | 4.8 µm | Standard: 92 fps |
| Genie Nano M1240 Mono | 1280 x 1024 | Mono | GigE Vision | 4.8 µm | Standard: 92 fps |
| Genie Nano M800 Mono | 832 x 632 | Mono | GigE Vision | 4.8 µm | Standard: 229 fps |
| Genie Nano M700 Mono | 728 x 544 | Mono | GigE Vision | 6.9 µm | Standard: 308 fps |
| Genie Nano M640 NIR | 672 x 512 | Mono, NIR | GigE Vision | 4.8 µm | Standard: 350 fps |
| Genie Nano M640 Mono | 672 x 512 | Mono | GigE Vision | 4.8 µm | Standard: 350 fps |
| Genie Nano C4900 Color | 4912 x 3684 | Color | GigE Vision | 1.25 µm | Standard: 6.6 fps |
| Genie Nano C4060 Color | 4112 x 2176 | Color | GigE Vision | 3.45 µm | Standard: 13.4 fps |
| Genie Nano C4040 Color | 4112 x 3008 | Color | 3.45 µm | GigE Vision | Standard: 9.7 fps |
| Genie Nano C4030 Color | 4112 x 2176 | Color | 3.45 µm | GigE Vision | Standard: 13.4 fps |
| Genie Nano C4020 Color | 4112 x 3008 | Color | 3.45 µm | GigE Vision | Standard: 9.7 fps |
| Genie Nano C2590 Color | 2592 x 2048 | Color | 4.8 µm | GigE Vision | Standard: 22.7 fps |
| Genie Nano C2450 Color | 2464 x 2056 | Color | GigE Vision | 3.45 µm | Standard: 23.8 fps |
| Genie Nano C2420 Color | 2464 x 2056 | Color | GigE Vision | 3.45 µm | Standard: 23.8 fps |
| Genie Nano C2050 Color | 2064 x 1544 | Color | GigE Vision | 3.45 µm | Standard: 37.8 fps |
| Genie Nano C2020 Color | 2064 x 1544 | Color | GigE Vision | 3.45 µm | Standard: 38 fps |