The Power and Speed of Vision
The ELiiXA+ family features Teledyne e2v's recently developed multi-line CMOS technology, providing high line rates and combining high response with extremely low noise levels. This delivers high signal to noise ratio even when short integration times are required or when illumination is limited. Pixels are arranged in two active lines and dual line filter configuration allows the cameras to be operated in several modes.
Flat panel display
inspection
Printed circuit board
inspection
Solar cell inspection
High quality raw material
High resolution document
scanning
Surface inspection
Printing inspection
Electronic inspection
High quality raw material
High quality food and
pharmaceutical inspection
Rail inspection
Industrial inspection
And more!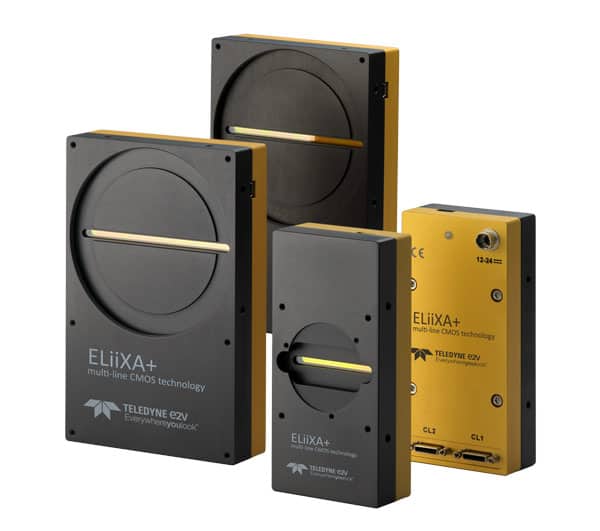 | Camera Type | Line Scan |
| --- | --- |
| Sensor Technology | CMOS |
| Supported Interfaces | Camera Link, 5 Gigabit Ethernet, CoaXPress |
| Camera Link Mode | Base (24 bit), Medium (48 bit), Full (64 bit), Extended-Full (80 bit) |
| Spectrum Capability | Visible (400-700 nm) |
| Conformity | 2011/65/EU, EMC (European) directive 2004/108/EC (EN50081-2, EN 61000-6-2), |
Model

Resolution

Spectrum

Interface

Pixel Size

Max Line Rate

ELiiXA+ Color 2K - NBASE-T - Quad Line (BA0)
Part number: EV71YC4CNT2010-BA0
2048 x 2
CMOS

Color

NBASE-T
Ethernet

5 µm

100 kHz

ELiiXA+ Color 4K - Camera Link - True Colour Mode (BH0)
Part number: EV71YC4CCL4010-BH0
4096 x 2
CMOS

Color

Camera Link

10 µm

66 kHz

ELiiXA+ Color 4K/2K - NBASE-T - Quad Line (BA0)
Part number: EV71YC4CNT4005-BA0
4096 x 4
CMOS

Color

NBASE-T
Ethernet

5 µm

50 kHz

ELiiXA+ Color 8K - Camera Link - Full Definition Mode (BH0)
Part number: EV71YC4CCL8005-BH0
8192 x 4
CMOS

Color

Camera Link

5 µm

50 kHz

ELiiXA+ Color 8K/4K - Camera Link - Full Definition Mode (BA0)
Part number: EV71YC4CCL8005-BA0
8192 x 4
CMOS

Color

Camera Link

5 µm

50 kHz

ELiiXA+ Color 16K/8K - CXP (BA0)
Part number: EV71YC4CCP1605-BA0
16384 x 4
CMOS

Color

CoaXPress

5 µm

45 kHz

ELiiXA+ Mono 2K - NBASE-T - Quad Line (BA0)
Part number: EV71YC4MNT2010-BA0
2048 x 4
CMOS

Mono

NBASE-T
Ethernet

5 µm

140 kHz

ELiiXA+ Mono 4K/2K - NBASE-T - Quad Line (BA0)
Part number: EV71YC4MNT4005-BA0
4096 x 4
CMOS

Mono

NBASE-T
Ethernet

5 µm

140 kHz

ELiiXA+ Mono 8K/4K - Camera Link - Dual lines (BA0)
Part number: EV71YC2MCL8005-BA0
8192 x 2
CMOS

Mono

Camera Link

5 µm

40 kHz

ELiiXA+ Mono 8K/4K - Camera Link - Dual lines (BA1)
Part number: EV71YC2MCL8005-BA1
8192 x 2
CMOS

Mono

Camera Link

5 µm

100 kHz

ELiiXA+ Mono 8K/4K - Camera Link - Dual Output (BH2)
Part number: EV71YC4MCL8005-BH2
8192 x 4
CMOS

Mono

Camera Link

5 µm

100 kHz

ELiiXA+ Mono 8K/4K - Camera Link - HDR (BH0)
Part number: EV71YC4MCL8005-BH0
8192 x 4
CMOS

Mono

Camera Link

5 µm

100 kHz

ELiiXA+ Mono 8K/4K - Camera Link - HDR (BH1)
Part number: EV71YC4MCL8005-BH1
8192 x 4
CMOS

Mono

Camera Link

5 µm

100 kHz

ELiiXA+ Mono 8K/4K - Camera Link - Quad Line (BA0))
Part number: EV71YC4MCL8005-BA0
8192 x 4
CMOS

Mono

Camera Link

5 µm

40 kHz

ELiiXA+ Mono 8K/4K - Camera Link - Quad Line (BA1)
Part number: EV71YC4MCL8005-BA1
8192 x 4<
CMOS

Mono

Camera Link

5 µm

40 kHz

ELiiXA+ Mono 12K - CXP - HDR (BA0)
Part number: EV71YC4MCP1205-BA0
11008 x 4
CMOS

Mono

CoaXPress

5 µm

200 kHz

ELiiXA+ Mono 16K/8K - Camera Link - HDR (BH1)
Part number: EV71YC4MCL1605-BH1
16384 x 4
CMOS

Mono

Camera Link

5 µm

50 kHz

ELiiXA+ Mono 16K/8K - Camera Link - Quad Line (BA1)
Part number: EV71YC4MCL1605-BA1
16384 x 4
CMOS

Mono

Camera Link

5 µm

50 kHz

ELiiXA+ Mono 16K/8K - CXP 2 links - HDR (BH2)
Part number: EV71YC4MCP1605-BH2
16384 x 4
CMOS

Mono

CoaXPress

5 µm

75 kHz

ELiiXA+ Mono 16K/8K - CXP 2 links - Quad Line (BA2)
Part number: EV71YC4MCP1605-BA2
16384 x 4
CMOS

Mono

CoaXPress

75 kHz

ELiiXA+ Mono 16K/8K - CXP - HDR (BA1)
Part number: EV71YC4MCP1605-BA1
16384 x 4
CMOS

Mono

CoaXPress

5 µm

140 kHz

ELiiXA+ Mono 16K/8K - CXP - HDR (BH0)
Part number: EV71YC4MCP1605-BH0
16384 x 4
CMOS

Mono

CoaXPress

5 µm

100 kHz

ELiiXA+ Mono 16K/8K - CXP - Quad Line (BA0))
Part number: EV71YC4MCP1605-BA0
16384 x 4
CMOS

Mono

CoaXPress

5 µm

100 kHz
| Document | Type |
| --- | --- |
| ELiiXA+ 16k&8k Color CoaXPress datasheet | PDF |
| ELiiXA+ 16k&8k Mono CameraLink & CoaXPress datasheet | PDF |
| ELiiXA+ 4k&2k Color NBASE-T datasheet | PDF |
| ELiiXA+ 4k&2k Mono NBASE-T datasheet | PDF |
| ELiiXA+ 8k&4k Color CameraLink datasheet | PDF |
| ELiiXA+ 8k&4k Mono CameraLink datasheet | PDF |
| ELiiXA+ 16k&12k Mono CoaXPress High Speed user manual | PDF |
| ELiiXA+ 16k&8k Color CoaXPress user manual | PDF |
| ELiiXA+ 16k&8k Mono CameraLink user manual | PDF |
| ELiiXA+ 16k&8k Mono CoaXPress user manual | PDF |
| ELiiXA+ 4k&2k Color NBASE-T user manual | ZIP |
| ELiiXA+ 4k&2k Mono NBASE-T user manual | PDF |
| ELiiXA+ 8k&4k Color CameraLink user manual | PDF |
| ELiiXA+ 8k&4k Mono CameraLink user manual | PDF |
| Camera Key Generator | PDF |
| CameraLink Protocol Library Windows XP/Vista/Seven/8/10 32bits | ZIP |
| CameraLink Protocol Library Windows XP/Vista/Seven/8/10 64bits | ZIP |
| CommCam Setup Windows XP/Vista/Seven/8/10 32bits | ZIP |
| CommCam Setup Windows XP/Vista/Seven/8/10 64bits | ZIP |
| ELiiXA+ 16k&8k CL CE and RoHS certification | PDF |
| ELiiXA+ 16k&8k CL REACH certification | PDF |
| ELiiXA+ 16k&8k CXP CE and RoHS certification | PDF |
| ELiiXA+ 16k&8k CXP REACH certification | PDF |
| ELiiXA+ 4k&2k CE and RoHS certification | PDF |
| ELiiXA+ 4k&2k REACH certification | PDF |
| ELiiXA+ 8k&4k CE and RoHS certification | PDF |
| ELiiXA+ 8k&4k CE and RoHS certification | PDF |
| ELiiXA+ 16k/4k CoaXPress (CXP) 3D STEP file | PDF |
| ELiiXA+ 16k/8k CameraLink (CL) 3D STEP file | PDF |
| ELiiXA+ 4k/2k NBASE-T 3D STEP file | PDF |
| ELiiXA+ 8k/4k CameraLink (CL) 3D STEP file | PDF |