Smart Vision for Automation
BOA is a highly integrated optical inspection tool for controlling quality and increasing productivity. It comprises all the elements of an industrial machine vision system in a tiny smart camera style package.
Easy to use and inexpensive
Teledyne DALSA's BOA leverages the full breadth and depth of Teledyne DALSA's design, engineering, and manufacturing expertise including sensor, camera, image-processing and vision software development to deliver the next generation in smart camera technology. BOA offers scalable vision solutions to satisfy a wide range of application needs from positioning robotic handlers to complete assembly verifications. Designed and ruggedized for harsh environment factory floor deployment, BOA is a truly exceptional all-in-one intelligent vision system.
BOA provides standard industrial Ethernet protocols for integrating into the factory network, including support for popular PLCs such as Rockwell Automation and Siemens. BOA ensures that data is moved quickly and accurately with minimal integration effort.
In addition to Ethernet, BOA provides serial RS-232 and discrete I/O connections, as well as expandable I/O options. A dedicated strobe output is further provided for direct light control.
BOA is compatible with industry standard M12 cord sets to minimize hardware integration costs.
Powerful Software Options
BOA vision systems are available with 3 different software applications:
BOA INS
The standard product is offered with our iNspect Express software. Ideal for both new and experienced users alike, iNspect Express can be quickly set-up to satisfy a multitude of common inspection tasks
BOA Pro
The PRO version is offered with our coveted Sherlock application software. Ideal for vision integrators, Sherlock provides the flexibility and tools to tackle the diverse range of applications across all industrial segments.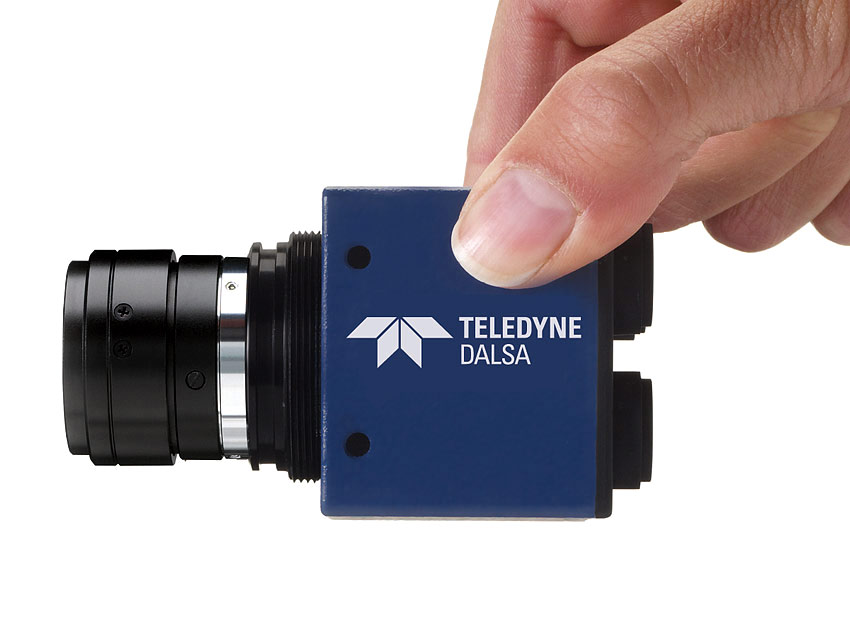 | Product | Resolution | Spectrum | Interface | Pixel Size | Max Line Rate |
| --- | --- | --- | --- | --- | --- |
| BOA 640C INS | 640 x 480 | Color | Ethernet 100Base-T, RS232 | 7.4 µm | Standard: 60 fps |
| BOA 640C PRO | 640 x 480 | Color | Ethernet 100Base-T, RS232 | 7.4 µm | Standard: 60 fps |
| BOA 640M INS | 640 x 480 | Color | Ethernet 100Base-T, RS232 | 7.4 µm | Standard:60 fps |
| BOA 640M PRO | 640 x 480 | Color | Ethernet 100Base-T, RS232 | 7.4 µm | Standard 22 fps |
| BOA 1280C INS | 1280 x 960 | Mono | Ethernet 100Base-T, RS232 | 3.7 µm | Standard: 22 fps |
| BOA 1280C PRO | 1280 x 960 | Mono | Ethernet 100Base-T, RS232 | 3.7 µm | Standard: 22 fps |
| BOA 1280M INS | 1280 x 960 | Mono | Ethernet 100Base-T, RS232 | 3.7 µm | Standard: 22 fps |
| BOA 1280M PRO | 1280 x 960 | Mono | Ethernet 100Base-T, RS232 | 3.7 µm | Standard: 22 fps |
| BOA 1600M INS | 1600 x 1200 | Mono | Ethernet 100Base-T, RS232 | 4.4 µm | Standard: 15 fps |
| BOA 1600M PRO | 1600 x 1200 | Mono | Ethernet 100Base-T, RS232 | 4.4 µm | Standard: 15 fps |
| Document | Type |
| --- | --- |
| BOA Brochure | PDF |
| BOA Brochure (Chinese) | PDF |
| BOA Brochure (Italian) | PDF |
| BOA Datasheet | PDF |
| BOA PRO Datasheet | PDF |
| BOA2 Datasheet | PDF |
| BOA Installation Manual | PDF |
| BOA EC/FCC Declaration | PDF |
| BOA EU RoHS Declaration | PDF |
| BOA Bracket Mechanical Drawings | PDF |
| BOA/BOA50/BOA200 3D MODEL (DXF) | PDF |
| BOA/BOA50/BOA200 3D MODEL (DXF) | OTHER |
| BOA/BOA50/BOA200 3D MODEL (STEP) | STP |
| BOA/BOA50/BOA200 Mechanical Drawings | PDF |
| PL-100 3D MODEL (DXF) | OTHER |
| PL-100 Mechanical Drawings | PDF |
| PL-101 Mechanical Drawings | PDF |
| PL-200-E 3D MODEL (DXF) | OTHER |
| PL-200-E Mechanical Drawings | PDF |
| PL-200-IO 3D MODEL (DXF) | OTHER |
| PL-200-IO Mechanical Drawings | PDF |
| PL-200-IOE 3D MODEL (DXF) | OTHER |
| PL-200-IOE Mechanical Drawings | PDF |