00:0001:00
Photoneo is a maker that develops innovative package product "BinPicking Studio" which can start 3D robot picking immediately if you prepare industrial 3D scanner "PhoXi Scanner series" and industrial robot.
We are the Distributor of Photoneo in SEA. (Exclusively in the following areas: Malaysia, Thailand, Philippines, Indonesia, and Vietnam)
Features
High resolution : 3.2 Mpx sensor built-in
It incorporates the latest 3.2 million pixel sensor to achieve high resolution and low noise.
Images of small parts can also be captured with high accuracy.
---
Laser fringe projection
Realizes a deep depth of field of 1 m to 3 m
This product projects multiple stripe patterns by the ultra-fast flickering of a scanning laser to capture an image. Generally, a projector is often used for fringe projection in three-dimensional measurement.
However, since this product performs projection with a scanning laser, a fringe pattern is also irradiated linearly in the depth direction to ensure a wide field of view.
While achieving a very deep depth of field. Pattern projection is possible to a depth of 1 to 3 m.
---
Built-in GPU
3D data output at 4 fps with NVIDIA Jetson
The NVIDIA Jetson platform is built into a fanless chassis and high-speed generation of three-dimensional data in the GPU from multiple captured streak images.
It is possible to output at maximum 4 fps by high-speed calculation.
---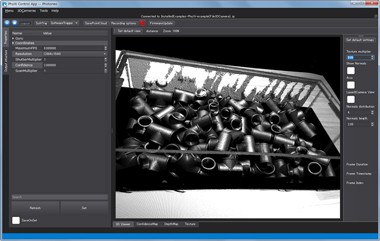 Software "PhoXi Scanner"
Adjustment of internal parameters of PhoXi Scanner and imaging test of 3D image can be set with the attached "PhoXi Scanner".
GigE connection: Plug and play connection
3D point cloud viewer function
Software trigger, imaging mode in free run mode
Driver provided for Windows, Linux (Ubuntu), Mac OS X
-C ++ / C # API
-HALCON interface
-API sample program included
---
Lineup
A total of 5 types are available from XS to XL. It is possible to freely select the best model according to the field of view.